Limes Museum
The Limes Museum is located on what was formerly the largest Roman fort north of the Alps. The fact that the ancient Roman Limes is now a UNESCO World Heritage Site gives this Roman Museum (the largest in Germany), an important distinction.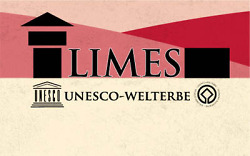 In the Museum, the history of the Raetic and Upper German provinces, as well as military and civilian life in and around the fort is well described. Among the numerous exhibits are items found during excavations in Aalen and at the fort at Rainau-Buch. During the year there are also several special events.


Have you ever dressed up as a Roman – and in a museum?

Probably not, all the more reason to visit the most important Roman museum in Southern Germany - the Limes Museum in Aalen. "Having Fun with Roman History", is the motto here.

The principle theme of the museum is the occupation of Southern Germany by the Romans in 200 A.D.

Outstandingly restored weapon discoveries such as lances and swords, heavy chain mail armor, and Caligae (roman sandals) show how well the Roman Army was equipped. An impressive artifact is the arrow-catapult that is reconstructed in real size.
A look into the civilian life shows complex manufactured tools and pottery. Gold and silver decorations, jewelry and minted coins give evidence of a modest prosperity. Nearby and in contrast to these delicate items, stand massive honorary monuments and gravestones made of domestic sandstone. The visitor is left with a strong impression after viewing the over 6.5 meter high column which honors the god Jupiter.

The high point of the exhibit is a treasure trove of unique cultural articles found in the excavations of the former village around the fort Buch.

Great importance is also given to the instructional considerations of the Museum.

Detailed designs, photos and models facilitate the understanding of the texts. Several dioramas staffed with tin soldiers, are especially attractive to children, and allow the visitor to obtain a clearer picture of the life at that time.

Attention is also paid to the area behind the museum where the actual center of the fort was located. During several years of work the central building with the well preserved Fahnenheiligtum (flag sanctuary) was excavated. This area is presented by a path with written explanations and drawings.

The Limes Museum and the excavations around it form an informative and pivotal point to understanding the Roman history in Baden-Württemberg.


Address:

Limes Museum Aalen
St.-Johann-Straße 5
73430 Aalen

Show location

Ph: 07361 528287-0
Fax: 07361 528287-10
E-mail: limesmuseum@aalen.de


Opening hours:

Tuesday to Sunday from 10am to 5pm. Opened also on public holidays and on weekends. The museum is also opened on Monday in case that it is a public holiday.

Closed on Christmas Eve and Christmas Day, New Year´s Eve and New Year´s Day.

Free guided tours (German language) every first Sunday of the month at 2.30pm.