Schloss Fachsenfeld (Fachsenfeld Castle)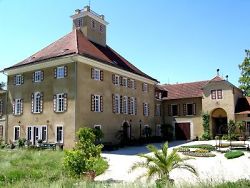 History


The history of Fachsenfeld Castle dates back to the 16th century. In the year 1540 Georg Siegmund von Woellwarth erected a sizeable building, which was soon developed into a castle by his son Hans Siegmund. During the Thirty Years´ War (1618 – 1648) the mansion was severely damaged. It burnt down on Christmas Day 1699. In 1827 judicial magistrate Wilhelm von Koenig acquired Fachsenfeld Castle. In the following 30 years the building was converted and enlarged. The extensive estate gardens also originate from that period. From 1905 to 1907 the Art Nouveau library and the gallery rooms were built.

In 1982 Baron Reinhard von Koenig Fachsenfeld, being the last descendant of his family line, established a foundation by suggestion of Aalen´s Lord Mayor Ulrich Pfeifle. The purpose of the foundation is to open the castle and the magnificent park to the public and to establish Fachsenfeld Castle as a nationally significant cultural location.

Since 2000 the annually held "Koenigswege" - a series of events presenting special exhibitions, readings and concerts - contribute to this goal. Additionally, the historic and culturally precious castle with its significant art treasures can now be visited by the public.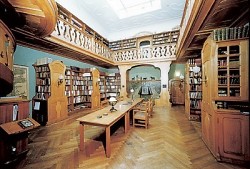 The Magnificent Gardens

The wonderful estate garden, a first class botanical gem, is truly worth visiting. Pristine fauna and flora is preserved on the site which extends some 7.8 hectares. From spring to summertime, in particular, the flower-carpeted meadows gleam with colors which are unfamiliar to us today. After such a visual indulgence guests are invited to finish their garden tour with an enjoyable visit to the Art Nouveau Café.

Fachsenfeld Castle delights every visitor with its rare symbiosis of history, arts, culture and nature.

Opening hours:
From April to Oktober
Saturday from 1pm to 5pm
Sunday and public holidays from 11am to 5pm
and by appointment.
Park and castle may only be visited as part of a guided tour.

Contact:
Fachsenfeld Castle
Am Schloß 1
73434 Aalen-Fachsenfeld

Ph: 07366 92303-0
Fax: 07366 92303-33
E-mail: schloss-fachsenfeld@t-online.de

Show location

Link