Wasseralfingen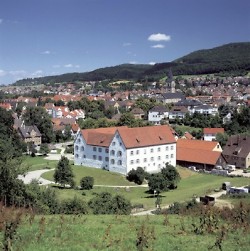 Wasseralfingen (424 meters high) lies at the foot of the Braunenberg - a northeastern offshoot of the Swabian Mountains - and is Aalen's largest suburb, home to over 11,700 inhabitants.

Most likely Wasseralfingen was established as early as 300 A.D. as an Alemannic colony. The earlier name "Ahelfingen" appears in documents for the first time around the year 1200, taken from the Knights of Ahelfingen, who resided here. The establishment of the iron works in the year 1671 was important to the development of Wasseralfingen. After the transition to Württemberg the works were called the "Königliches Hüttenwerk Wasseralfingen" ("Royal Metallurgical Plant Wasseralfingen"). Today's SHW Automotive GmbH & Co KG can look back on a history of over 635 years and is one of the oldest industrial companies in the world.

Mining and smelting shaped the town over centuries. In the Winter Museum (museum for urban history, art and technology), and in the visitor mine "Tiefer Stollen", Wasseralfingen's past is well illustrated.

In the year 1951 Wasseralfingen was given the official designation of "city". In 1975 Wasseralfingen was annexed by the city of Aalen.

On 17 November 2004 a suburb of Wasseralfingen, the village of Röthardt - where the Tiefer Stollen Asthma Center is located - became the 57th official health resort in Baden-Württemberg.

With its numerous culture and sport clubs, belonging to the Wasseralfingen Sport and Culture Association, the town has an extremely active social life. For over 30 years the Wasseralfingen Sport and Culture Association has founded and organized, together with its member clubs the "Wasseralfinger Festtage", which is a multicolored mixture of street fest, art exhibition and cabaret, known throughout the region.